Dear Skaredalites: Episode 9 has been pushed back a few days. Baby has not been feeling too well so I am a bit behind on the recording.
As for the hobby table, I have been gearing up for the 1500pt tournament this weekend in Barrie. It has been interesting to go back down to 1500pts (from the regular 1850). This has made me explore other units in the Dark Eldar book. I decided to take out the Razorwing (for the first time in a year and a half!) and instead, build and paint 5 scourges. These scourges are armed with 2 haywire blasters, a decent AI and AT gun that complements the other weapons in the squad quite nicely. I am looking forward to testing them out on the field (I hope to have another game on wed). I have also been very active on my twitter account @skari2 so give me a follow if you are a tweeter for more constant updates.
I thought that this would be a good time to show you all a WIP of the 5 scourge. I magnetized the two special weapons and got some extra feather wings. enjoy!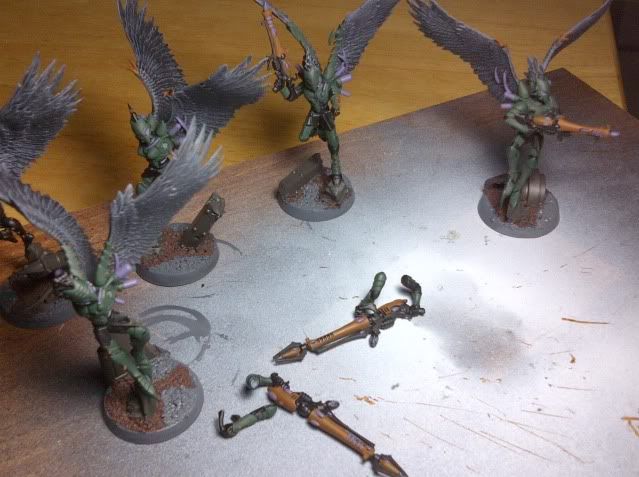 Stay tuned for more. Skari- Out